Muk Khmae: Khmer Beginning Textbook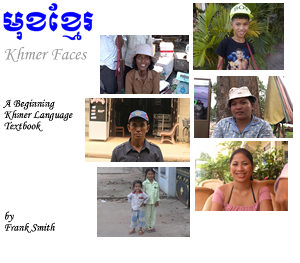 Please read before ordering!
I am now only offering electronic publishing of my Khmer textbooks. Each book is available as a download (PDFs of the book, and all accompanying video and audio files) only, no more printed books. The price for each book is $42 USD.
If you have any questions, please E-mail me.
To purchase a download of PDFs of the Beginning Textbook and all accompanying video and audio files, for $42, choose a payment option below:
After you place your order, I will share a Dropbox folder with you containing all of the files, and send you an e-mail with instructions.
See and Hear Samples
This is the textbook I use for Beginning Khmer at the University of California-Berkeley. It assumes no previous knowledge of spoken Khmer, written Khmer, or Khmer culture. If you grew up in a Khmer-speaking home, you should instead check out the
Heritage Textbook
.
See the textbook Table of Contents and Introduction, see sample textbook pages from several chapters, and listen to audio tracks and watch videos which accompany your purchase of the Textbook download files