Chapter Three: The Family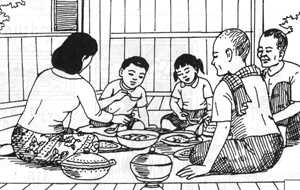 In this chapter we'll deal with one of the most common first topics of conversation when you meet Khmers. You'll also learn essential vocabulary to use when visiting Khmer homes and simply "hanging out" with Cambodians.
Note that all links on this page will open in separate browser windows for each type of media (PDF, html or MP3). You'll need both Adobe Acrobat Reader to view the PDF documents. A link is provided below to download it if you don't have it already.
Conversation When Visiting
What you'll be asked--and what to answer--when you're visiting a Cambodian home.