Lao Language Ephemera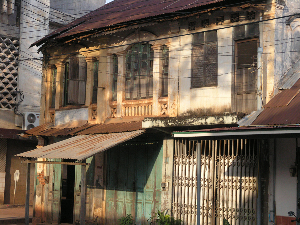 NEW: If you're interested in learning Lao language, see my Lao language learning materials on studylao.com.
SEASSI Lao Independent Study Project Presentations
Intermediate Student Presentation on the Life of the Buddha and the Vesendara Jataka
This is a video of a presentation by SEASSI 2005 Intermediate Lao student Chanphammala Luangphasy on the life of the Buddha as Sidhartha and the popular story of his penultimate life, the Vesendara Jataka (Nithaan Sadok in Lao). This very well-done presentation documents a summer of research by Chanphammala, and features an interview with a local elder at the Elgin, Illinois Bun Phawet festival.
Below the link to the video (which will open in a separate browser window) is a link to a PDF document which contains the word list that Chanphammala produced for her presentation.
See the Student's Word List on Nithaan Sadok
Two Renditions of a Lao Folk Tale
Why The Dog Lifts Its Leg When It Pees: The Oral Performance Version
This is a cute and funny Lao folk tale explaining the origin of a certain [male] canine toilet habit. It's told by master storyteller Wajuppa Tossa, a professor of Isaan and Lao literature at Mahasarakham University in Thailand.
Why The Dog Lifts Its Leg When It Pees: The Student Theater Version

After listening to the above version of the folk tale in their course materials at SEASSI, the Lao Intermediate and Advanced students of 2006 put together this excellent video version of the story in which they act it out.
A Short Play based on a Xiang Miang Episode
Dead Within Seven Days: An Episode from the Tales of Xiang Miang
Xiang Miang is a popular trickster character in Lao folklore, who, in a series of ongoing adventures, continually gets the better of the rich and powerful, even though he's a seemingly harmless, unassuming young lad. This Xiang Miang adventure was acted out by a group of Intermediate and Beginning Lao students and their instructors at "Poetry Night," SEASSI 2007.
You can both watch a video of the performance, and read the original folk tale in Lao (with vocabulary explanations in English), from the Intermediate/Advanced Lao Textbook Than Samay by Frank Smith, by selecting the links below.